Felted on the Farm Products
Looking for a unique hand crafted gift?  We offer one of kind fanciful and functional felted items.  All items are felted on the farm from 100% Alpaca and Merino wool.
We are happy to take special orders. Curbside pick-up is available (following all COVID-19 safety precautions)

Grandma Troll's Handmade Dryer Balls!©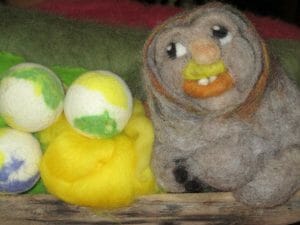 100% Natural Wool & Alpaca Fibers - No fillers!

Economical and good for the environment!


No more dryer sheets!!

Two of these little wool balls absorb moisture from clothing in the dryer, maintaining a humid environment thereby cutting down on static...while also cutting down on drying time.

Save $$ – Energy – Control Static!!  - Make Great Gifts!
$5.00 each

Fanciful and functional one of a kind felted items
Each one is handcrafted on the farm using our own natural wool and alpaca fibers - no fillers!
Enjoy giving a 100% natural handcrafted gift!